New Total.js Cloud version
New features
Improved UI
All app containers with Total.js SuperAdmin
Preinstalled Total.js apps
Database containers
Daily backups
We support two locations: Europe and USA
Improved UI
We have entirely redesigned Total.js Cloud with a more minimalist design and improved functionality. And also, you can share containers with your members.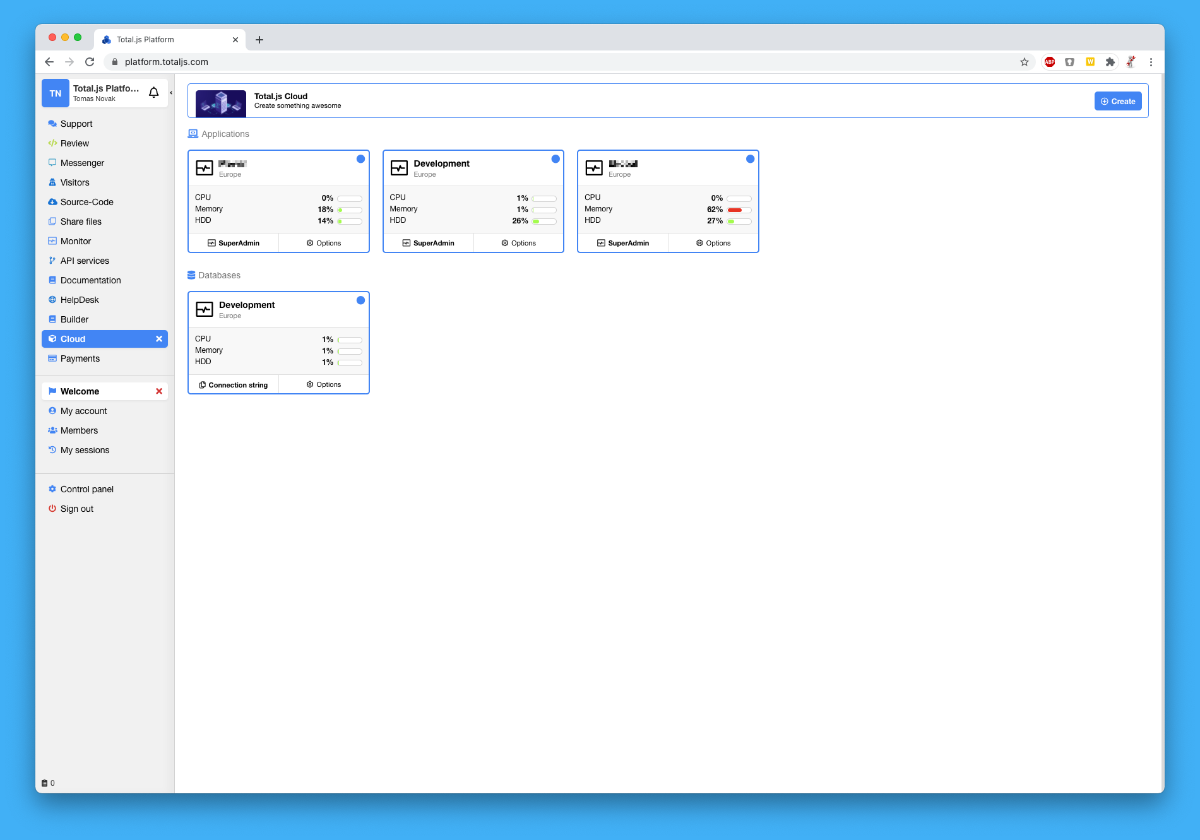 With Total.js Cloud, you can start to develop much faster. With preinstalled Total.js Code Editor, you can collaborate in real-time with your colleagues or friends on your projects. Try Total.js Rapid Cloud development today: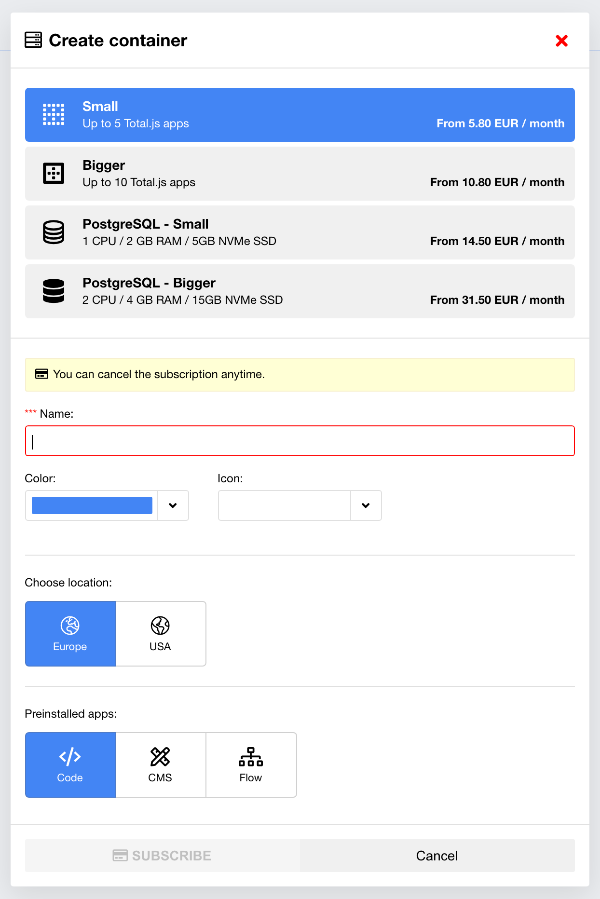 Total.js SuperAdmin
Each container (with applications) contains preinstalled Total.js SuperAdmin. So you can easily create your new applications as never before.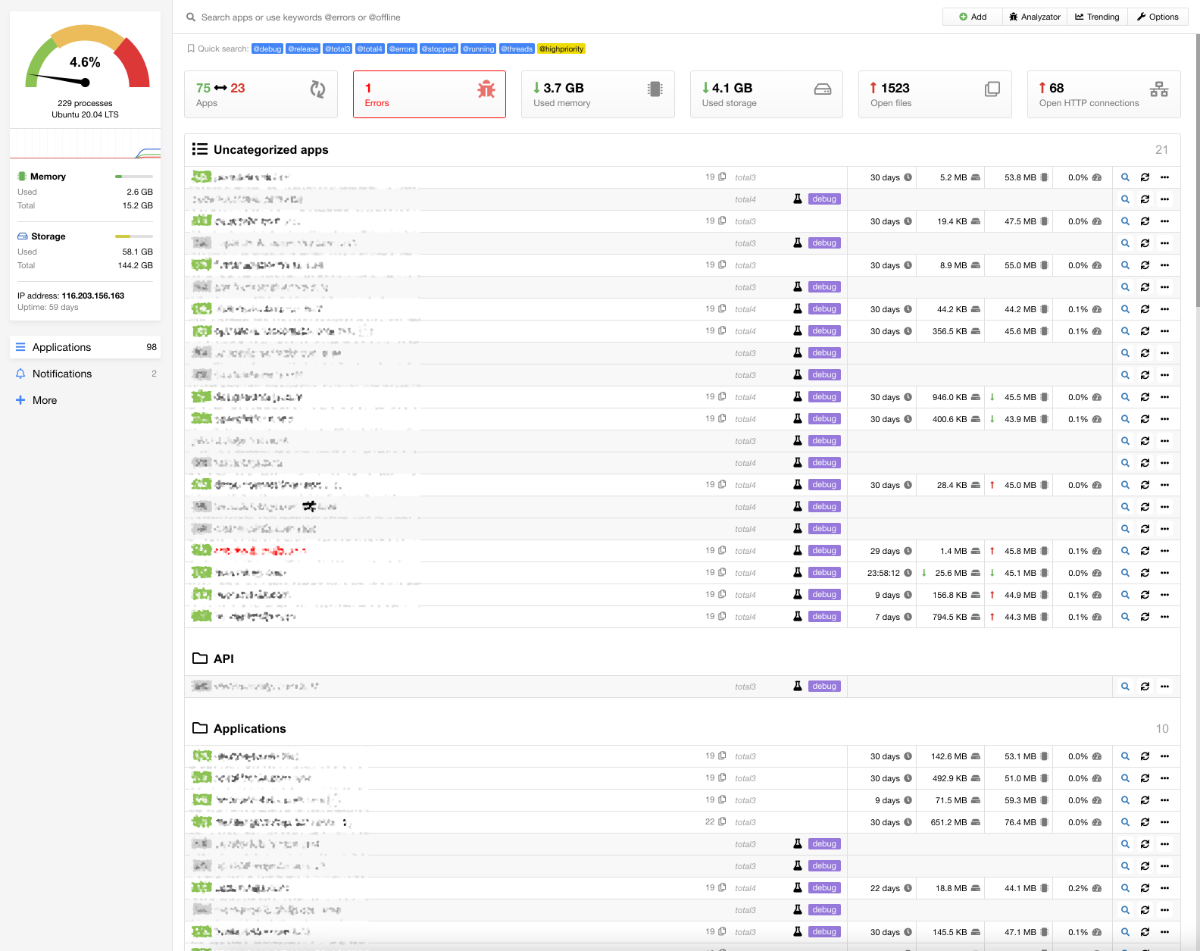 Database containers
Finally Total.js Cloud supports database containers with PostgreSQL database. If you create a database container then you obtain a connection string to your database. We have prepared great containers with good CPU, memory and fast storage for the PostgreSQL database.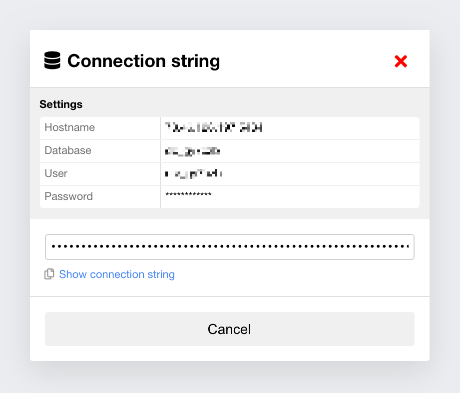 Tutorials
We have prepared two tutorials that may help you to understand Total.js Cloud with Total.js Cloud Rapid Development. Watch the tutorials below:
Total.js Cloud Development in two minutes:
Advanced Total.js Cloud tutorial:
Node-red alternative called Total.js Flow in two minutes:
Pricing
We offer fair pricing for everyone:
| Container type | Price |
| --- | --- |
| Up to 5 apps | 5.80 EUR / month |
| Up to 10 apps with better CPU and RAM | 10.80 EUR / month |
| PostgreSQL Small | 14.50 EUR / month |
| PostgreSQL Bigger | 31.50 EUR / month |
Join now